Feedback & Press

Download our Press Kit
(zip)
containing copy (doc and pdf), photos, and movie poster.
---

Recent News & Events


Sept 22, 2016
Jessica just won the stiff competition for the Writing category at the Jackson Hole Science Media Awards in Boston ! So well deserved and a great story about a great river.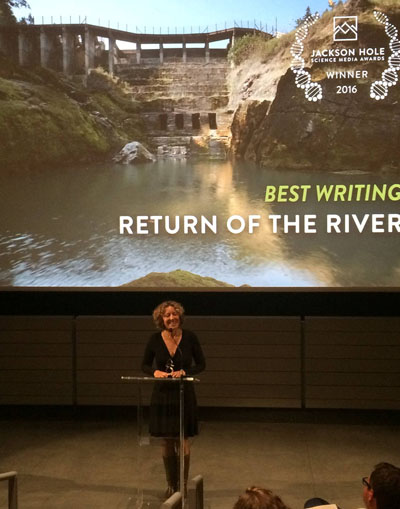 Oct 1, 2015
This week the film won two awards at the Jackson Hole Wildlife Film Festival, a summit and celebration of wildlife and conservation media. The film was recognized for conservation impact and received the Marian Zunz award for emerging filmmakers. Return of the River was among almost 1,000 submissions to this prestigious event, and was also one of three finalists for best writing in wildlife film.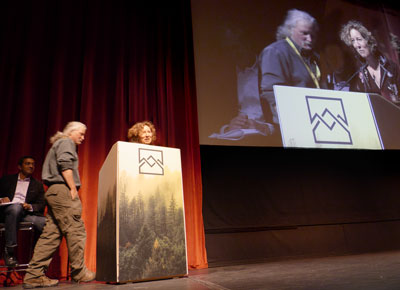 March 19, 2015
Grateful for a fantastic screening & full house in DC at the Environmental Film Festival in the Nation's Capital! We were honored to have remarks by National Park Service Director Jon Jarvis, and grateful for an intro from American Rivers. Thank you, Washington! And thanks to all who work for rivers in the nation's capital!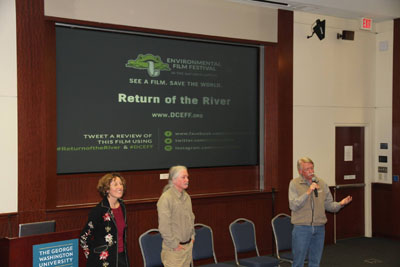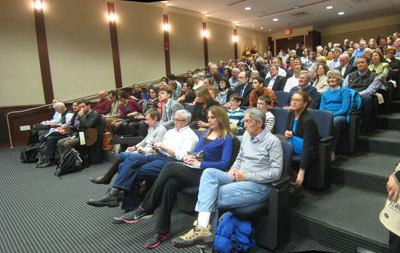 Jan. 15, 2015
Town Hall Seattle
We had a sold out screening with over 700 people attending the film as well as listening to a panel of Elwha experts talk about the river restoration process. The speakers included Jeff Duda, Shawn Cantrell, Norm Dicks, Francis Charles and Jessica Plumb. The program was put on by Naturebridge.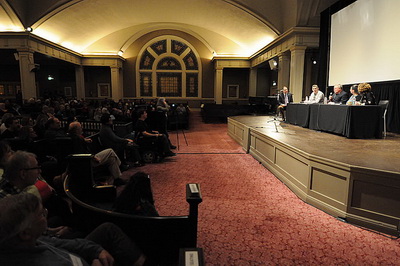 April, 2015
To date the film has received 9 awards :

Best Storytelling
International Wildlife Film Festival
---
Best Conservation Message
International Wildlife Film Festival
---
Audience award for best documentary
Port Townsend Film Festival
---
Jury award for "Film Impact"
Port Townsend Film Festival
---
Best international documentary
Kuala Lumpur Eco Film Festival
---
Best Eco Film
Wine Country Festival, Sonoma CA.
---
Best environmental activism award
Adventure Film Festival, Boulder CO.
---
Audience Choice Award
Friday Harbor Film Festival
---
Gold Jury Prize
Social Justice Film Festival
---

It has played in 14 festivals since its September premiere. All screenings and festivals are on the screening calendar on our website.

Nov 10, 2014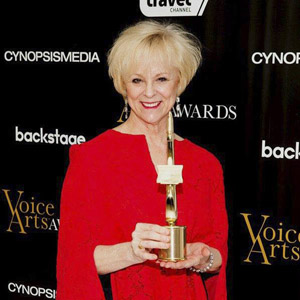 Our wonderful narrator Debbie Hirata just found out she won her category at the First Annual Voice Arts awards in NYC. She had submitted her work for "Return of the River" in the Outstanding Movie Narration category. She so deserves it.
http://www.voiceovertimes.com/2014/11/09/voice-arts-awards-winners/

Oct 8, 2014
Radio interview with John by radio station CBC. ca from Labrador, Canada.
Listen here.

Sept 20, 2014
Had our first film festival showing at the Port Townsend Film Festival to overpacked houses. Review from the Olympic Peninsula Environmental News blog.

Review from Sight on Sound website.
"Return of the River is hell-raising documentary filmmaking at its best, packed with natural beauty and a comforting message that hope is not lost for our bruised planet."
READ MORE...

Sept. 13, 2014
Radio interview with Jessica on station KPTZ in Port Townsend. Listen here.

June 26, 2014



click to enlarge
Had a "test screening" for the hometown crowd in Port Angeles of the full film. We packed the house and had to have a second screening. Read the article in the Peninsula Daily News.
---
April 16, 2014



Interviewed for KING5 TV Evening News Magazine segment, watch here.
---
2/27/14
Narration recording session with actor Tom Skerritt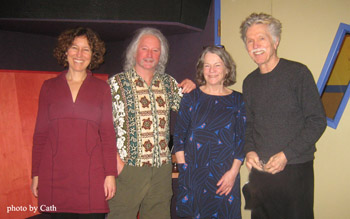 Jessica, John, Sarah Hart and Tom Skerritt
---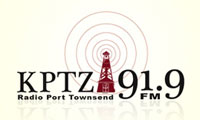 Listen to a half hour radio interview with John and Jessica talking to reporter Steve Evans from KPTZ radio in Port Townsend as we visit the dam sites and lakebeds.






"With its stunning photography, in-depth historical background, and deeply-imbued tribal perspective, Return of the River is the documentary film that lives up to the grandeur of the Elwha, its renewal, and its promise."
- Lynda V. Mapes,
author, Elwha, a River Reborn


---
"Return of the River vividly portrays the epic story of the freeing of Olympic National Park's mighty Elwha River from two salmon-blocking dams. The Elwha Klallam people, scientists, fishermen, politicians, enviros, and townsfolk all add their voices to a film that is visually dazzling, lyrically evocative, and fluid as mountain snowmelt."
- Tim McNulty,
poet, essayist, nature writer


---
"It's beautifully filmed, gracefully told and exceptionally fair. I believe you have created the definitive version of the complex and important story of the Elwha."
- Bruce Brown
author, Mountain in the Clouds


---
"Absolutely outstanding!! You, Jessica, and company proved to be an incredible team with writing, voice overs, and filming. I see this as powerful and important film. "
- Sam J. Brenkman
Chief Fisheries Biologist
Olympic National Park
---

"Just got out of the world premiere of  'Return of the River", the film that likely will be considered the definitive work on the Elwha Dam removal. A well crafted storyline, beautiful filmmaking, solid editing, a wonderful original soundtrack, animation when needed of the hard concepts. Congratulations for a remarkable piece of work. A 5 star must see film."
- Al Bergstein
Olympic Peninsula Environmental News


---
"I am completely awestruck by the film!  It is perfect, except for the fact that I can't watch Ben Charles at the celebration without weeping.  :)  but small price to pay."
- Sarah Miller
---
"It was absolutely awesome! It was beautiful, very well done, educational, and in every way enjoyable.."
- Dick and Marie Goin
---
"BRAVO!!!! Beautifully profound soul touching story telling! I offer a standing ovation with lots of woohoo's! Thanks for all your effort to capture this magnificent and epic story on film!"
- Karen Godfrey
---

"It took about 30 seconds to decide that I wanted to see "Return of the River" all the way through the film's credits; about 10 seconds more to know that I wanted you to see it, too."
- Sharon Wootton, Everett Herald


---

"you incorporated lots of meaningful information, history and personalities including the very fine and sensitive presentation of the Lower Elwha tribe and their important culture and presence on the River, past and present."
- Bob Kaune


---
"The depths your film have touched within my soul are unfathomable."
- Debbe Hirata
---
"Bravo, very beautifully done and an excellent job of telling the entire story from so many different points of view. Thank you guys for all your dedication and passion to this project."
- Adar Feller
---
"Your movie focuses on the positive outcomes with respect not only to the natural history but also to the native history, the political history and the overall human element. The more I see it the more I understand about the significance of the Elwha Restoration."
- Bill Kindler
---
"Congratulations on every aspect of your production--
visually magnificent, historically founded,socially broad and balanced and relevant, and strongly encouraging for the future of the river, the park, the people, the salmon, and the peninsula. It offers a vision of social and environmental achievement that could be useful to other communities.."
- Pat G